Security teams must constantly keep abreast of changing threats to mitigate potential harm to their facilities and personnel effectively.
Detecting Threats
Responding to Threats
Remediating Threats
Managing Threats
Detecting Threats
Cybersecurity resources are becoming harder and harder, so more businesses are turning to managed detection and response (MDR) services for their security needs.
MDR can quickly process network device data to quickly analyze possible attacks and provide context that makes investigations more insightful, enabling MDR to investigate alerts more efficiently so your team can take immediate action faster.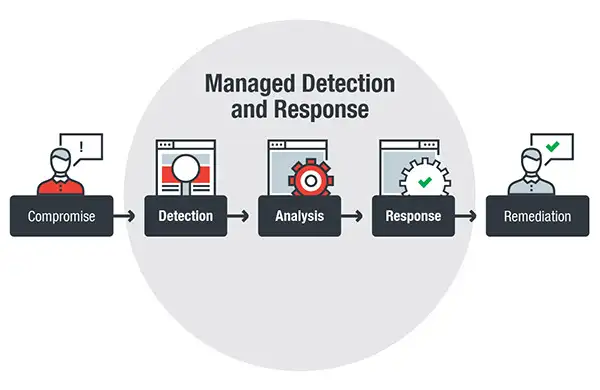 MDR will dispatch a team of skilled security operations center (SOC) employees to investigate and trace the source of an attack, providing root cause analysis, mitigation advice, and incident response tool kits as support to your team in handling it.
MDR services can be an ideal way for security teams to utilize multiple security tools to keep up with constantly emerging threats or for smaller organizations without enough resources to create and staff an in-house security team.
Integrating tools, experts, and processes into an MDR solution can deliver results beyond the capabilities of single security solutions. MDR security provides an excellent way to leverage your investment in cybersecurity technology by adding another layer of visibility and defense against cyber threats.
MDR provides cost-effective services that strengthen a company's security defenses and reduce risks without an upfront cybersecurity investment. They keep up with ever-evolving adversarial techniques by offering higher skill-level analysts using cutting-edge security tools and real-time global databases beyond most enterprise budgets, skill levels, and resources.
Responding to Threats
Managed Detection and Response (MDR) solutions offer organizations looking to keep their data safe from attack the ability to detect, respond to, and remediate threats quickly.MDR services monitor IT resources such as endpoints EDR, networks, and cloud services for potential security vulnerabilities and notify clients to help take corrective actions if needed.
Cyber security solutions can either stand alone as standalone services or supplement existing firewalls and antivirus software to proactively detect threats without interrupting normal business activities and help maintain compliance regulations by offering full stakeholder reporting and log retention capabilities.
Unlike traditional cybersecurity solutions, MDR services focus on quickly detecting threats requiring immediate response and using machine learning technology to determine their severity and prioritize alerts accordingly. This saves your IT team time to concentrate on more urgent matters.
By providing more comprehensive threat detection, MDR assists your organization with keeping up with the ever-evolving cyber landscape and decreasing the risk of data breaches. When combined with enhanced threat intelligence and security protections at network, server, cloud, and application layers, it also can assist with compliance requirements for regulations in your sector.
Remediating Threats
Managed Detection and Response (MDR) is an advanced cybersecurity solution that combines machine learning, advanced analytics, and human expertise into one solution that helps businesses quickly detect threats, assess systems for potential vulnerabilities and decrease security dread.
MDR was designed to augment security solutions such as firewalls, intrusion detection systems, and antivirus software while providing an independent security solution for companies without enough resources or expertise to build comprehensive cybersecurity programs.
As cybersecurity trends and threats emerge and more threat actors recognize vulnerabilities within your network, organizations must create a plan for managing risks effectively in response.
Unfortunately, many organizations lack the in-house resources and expertise to mitigate them effectively.
MDR services can also assist in actively hunting down threats by bypassing other security controls by analyzing data for unusual activity or signs of compromise.
Threat-hunting teams can play a critical role in detecting an attack, as they help identify weaknesses vulnerable to exploitation later. For example, if your company has vulnerable patches, threat-hunting teams may detect this and prevent further attacks in the future.
MDR collaborates with other managed security services to reduce the alerts your security team receives, saving time and resources. Furthermore, MDR prioritizes threats based on type and impact, so your team only has to focus on those threats that pose the highest risks.
Managing Threats
Security teams cannot stop threats from occurring. Still, they can reduce their impact by responding swiftly and mitigating damage as soon as they arise - thus enabling businesses to resume operations with minimal interruption and disruption.
Managed Detection and Response (MDR) allows a cybersecurity team to respond efficiently and cost-effectively to threats with minimum effort and expense. MDR integrates technology and human expertise for maximum threat hunting, monitoring, and response across an organization at all levels.
Managed Detection and Response (MDR) allows a cybersecurity team to respond efficiently and cost-effectively to threats with minimum effort and expense. MDR integrates technology and human expertise for maximum threat hunting, monitoring, and response across an organization at all levels.
MDR provides its primary advantage by mitigating cyber attacks' damage to an organization's reputation, revenue, and customer relationships. MDR should be seen as an essential protection of digital assets of any size organization - large or small alike.
An effective MDR solution combines machine learning, rules, and manual inspection to distill an overwhelming stream of noise into prioritized alerts that must be responded to immediately. Furthermore, such solutions allow security teams to understand the context behind potential threats to more accurately assess both the scope and impact of attacks.
MDR solutions can quickly and reliably detect threats lurking among thousands of telemetry events - which is challenging for organizations alone to do on their own.
MDR allows even resource-limited companies to protect their digital assets at minimal additional expense.
With cybersecurity skills shortages rampant and increasing attacks threatening organizations' reputations and revenues, Managed Detection and Response (MDR) providers are becoming more important than ever to ensure strong enterprise security postures. Reputable MDR providers employ teams of experienced security professionals that can ensure your enterprise has strong security protections in place.