Do you want to stay proactive against advanced and known threats? Your organization certainly needs EDR Antivirus tools.
According to Secure list, 17 new ransomware families are detected alongside 14,626 new modifications of a malware type in third quarter of 2022.
Endpoint Detection and Response (EDR) and Antivirus software (AV) are well-known computer security software solutions. They both intended to provide strong defense against cyber security threats such as trojan, ransomware, phishing and viruses.
Endpoint Detection and Response (EDR), however, give the user different degrees of assurance. Let's figure out how these endpoint solutions work and which is the ideal according to your organization security needs.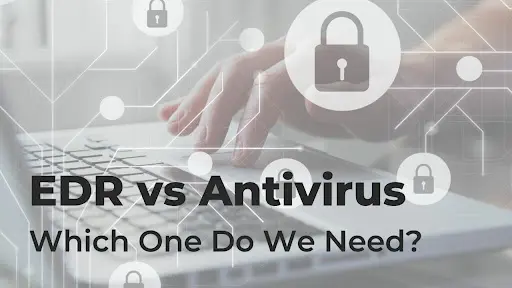 EDR Antivirus: What is EDR?
Endpoint Detection and Response (EDR), also known as Endpoint Threat Detection and Response (ETDR). It is a network security system that consistently monitors an endpoint, for example, a cell phone, laptop. You should know that ny devices connected to the Internet is open to cyber viruses, threats, or attacks. After detecting the threat, it immediately responds by eliminating them or alerting the cyber security experts.
EDR Antivirus: What is Antivirus?
This EDR software, known as anti-malware or anti-threat, is a PC program used to detect, distinguish, and eliminate malware or threats. Antivirus programming was initially evolved to recognize and eliminate viruses from domestic household computers. Nonetheless, with the expansion of other malware, this EDR software begins safeguarding against other computer malware and threats.
Some antivirus products protect malicious URLs, spam, and phishing. AV is intended to distinguish malware on a PC, yet digital hackers are becoming smart.
Conventional, pre-written EDR software could be more compelling at recognizing current malware because of the fast advancement of malware and the utilization of exceptional malware as and foundation for cyberattack crusades.
Furthermore, malware designers utilize different methods, such as file-less malware, to dodge recognition by antivirus arrangements.
If you employ Xcitium Endpoint Detection and Response (EDR) for your endpoint, it will work far better than antimalware. This (Detection and Response) EDR Antivirus endpoint security solution is good in detecting file-less malware progranms.
Before you know all about EDR Antivirus, it's good to understand both options in detail.
Usage of (Endpoint Detection and Response) EDR Antivirus
It is utilized to detect abnormal behavior or threats in PCs, laptops, or other gadgets connected to the Internet to prevent system damage and alert the administration for further required action. It gathers and monitors endpoints and store behavioral activity information.
EDR security system is an alarm device instead of a security wall or antivirus, but sometimes it works both ways as per requirement. The information is kept in a unified database centre and sent to the security information and event management system (SIEM).
Detection and Response EDR Antivirus job is to run software products and services simultaneously, such as security information management (SIM) and security event management (SEM). SIEM provides and checks security alerts generated by Endpoint defense tool.
Usage of Antivirus
An Antivirus works by distinguishing, isolating, and erasing malicious threats or malware. It can stop malware from further damaging the personal computer. The latest antivirus EDR software updates itself to provide security against the most recent cyber threats.
Capacities and Capabilities of EDR
Every (Detection and Response) EDR antivirus solution has different working capacities and capabilities. Some commonly used EDRs are capable of only observing endpoints connected to the Internet or without the Internet.
EDR can make endpoints visible for security teams who can identify threats easily and also can black-list malicious files and links.
A good number of (Detection and Response) EDR Antivirus software solutions can work with other software.
EDR Antivirus have different features and it's good to know all about them to make a detailed comparison.
Capacities and Capabilities of Antivirus
AV program has yet to improve with the requirement of time. So the working capacities and capabilities also have been compromised compared to previous years. AVsoftware is incapable of providing real-time scanning, which helps detect malware.
It lacks the option of the autorun. Thus manually handling the AV software every time is near to impossible.
AV lacks the capability of repeatedly checking the computer for malicious attacks. This (Detection and Response) EDR Antivirus software is designed to update manually to track and contain information about new threats and malware. Updating manually is not always possible in today's fast-paced world.
AVcannot protect multiple apps and sources used in computers to access the Internet.
Isolating the threat or virus and waiting for an action from the user causes much damage to the devices. Leaving potentially harmful threats in a computer for extended periods causes irreparable damages, including data theft, data loss, etc.
It is very orthodox software and cannot protect against the latest bots, threats, malware, spyware, viruses, and trojans.
If your antivirus doesn't update automatically, it won't be able to prevent new malware attack on your endpoints. It's when your organization become vulnerable.
Final Thoughts About EDR Antivirus Programs are Required to Secure Your Endpoints
In light of current cyber dangers to the endpoint security system, it requires more data and information than is accessible to AV frameworks.
The immediate response abilities of EDR empower your team analyst to act more rapidly, address potential security episodes and restrict the effect of a cyber attack. Both (Detection and Response) EDR antivirus programs are essential in dealing with cyber threats across your business system and endpoints.
EDR includes a scope of safety capabilities, empowering your inhouse team o recognize patterns. It is easy to understand and take a deep insight into system intrusion with a reliable endpoint protection tool such as Xcitium EDR.