As technology evolves, the number of threats and risks grows as well. Cyberattacks and advanced insider threats continue to challenge the cybersecurity industry. It has also affected how an organization implements its prevention detection and response plan.
2021'S CYBERSECURITY TRENDS YOU SHOULD KNOW
As companies adopt to the new normal, here are the top cybersecurity trends that they should be aware of:
1. Increased Work-from-Home Cybersecurity Risks
Work-from-home setups were necessary to lessen the infection rate in workplaces. However, home networks are usually less secure than offices. They don't have strong firewalls and an IT team.
Now, organizations need to focus on securing remote workforces. Remote workers may use personal devices that might put sensitive information at risk. It makes sense to invest in prevention detection and response solutions, systems, monitoring and documentation, and security controls.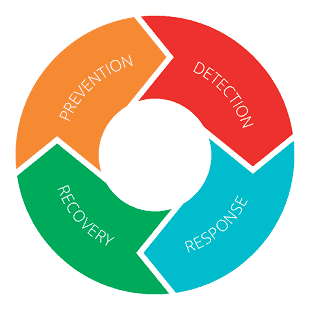 2. Higher Ransomware Attacks
The pandemic forced digitization and remote work setups for many organizations. It encouraged cyber attackers to use ransomware to exploit vulnerabilities. They steal and encrypt data, then ask for a ransom for owners to get their data back.
Since the COVID-19 cases started, ransomware attacks grew by almost 500 percent. The ransom requests also increased by 43 percent compared to the same time last year.
3. Smarter Social Engineering Tricks
Phishing has long been a threat. However, phishing attacks now target remote workers who connect to their employers' system. Criminals have become more innovative in finding ways to steal your data. So, you should find the best prevention detection and response solutions, too.
4. Better Multi-factor Authentication (MFA)
Cyber attackers now know how to get around phone-based MFA. It is much safer to use security keys and app-based authenticators. Anyone determined can access your one-time passcodes on the phone. This may set the trend for using more app-based authenticators.
5. Expanding Internet of Things (IoT)
Any device connected to the Internet is considered an Internet of Things. These include gadgets like smartwatches, fitness trackers, voice assistants. The increased use of these devices, especially for remote workers, only increased the number of sensitive entry points. These endpoints might not have as much space for antivirus, firewalls, and other security apps. It makes them vulnerable. It would help to use an effective prevention detection and response solution.
6. Increasing Prioritization of Data Privacy
Even the big names in business get attacked. These attacks risked the confidentiality of their stored personally identifiable information records (PII). It emphasizes the role of data privacy officers. It is on top of the implementation of tough data privacy laws. Organizations also realized the importance of MFAs, role-based control, encryption, and constant cybersecurity assessment.
7. Zero Trust Policy
In connection to remote working, organizations are adopting the zero-trust policy for security. It is about not trusting any individual or device to be free from compromise. They should not put their trust in firewalls and VPNs to completely keep off attackers. Every user and device should be authenticated. Segments should be in place to isolate cases of attacks. Prevention detection and response solutions should be strictly implemented.
8. Increased Security Threats to Cloud Services
Remote work proliferates the use of cloud services for easier collaboration. While cloud platforms enable efficiency, scalability, and financial savings, it also makes users vulnerable to attackers, cloud migration issues, and regulatory compliance violations. They may suffer from insufficient IT support and the stress of increased entry points of attack.
9. Growing Mobile Cybersecurity Threats
Remote working somehow required more mobile devices to connect to home Wi-Fi networks or even public ones to stay productive at work. It increases mobile cybersecurity risks, such as Android-based vulnerabilities, specialized spyware targeted on encrypted messaging apps, and Distributed Denial of Service (DDoS) attacks. But these threats can be minimized by work with your IT team. They can put in place prevention detection and response solutions.
Final Thoughts
Cyber threats make it difficult for companies to focus on accomplishing their business objectives effectively. If cybersecurity isn't reviewed and adapted to the current work situation, the chances of being crippled by a threat will increase. Do not shoulder the responsibility of protecting your network on your own. Let Comodo help you with your need for prevention detection and retention.
Here at Comodo, you can count on nonstop endpoint monitoring, advanced search features for detection, policy customization, and retrospective event analysis. We also offer real-time monitoring, timeline visualization, multi-tenancy support, compatibility with other security tools. We have customized cloud hosting and human analysis of suspicious events or files. Call us today for a demo so you can learn more about our services!