Many employees have shifted to remote work ever since the pandemic hit. They had to work from home on their devices, such as endpoint Windows 10.
Without the necessary security solutions, your staff won't be able to defend themselves against the rising cases of cyber-attacks. Protective firewalls, VPN solutions, and endpoint detection and response systems are just some of the tools you need for security.
The good news is that businesses can tap on a myriad of affordable solutions to provide real-time malware detection and prevention.
Here are some of the features that you need to look for when choosing endpoint Windows 10 protection.
Cloud-based Endpoint Windows 10 Protection
Do you want your endpoint solution to be managed on premises or in the cloud? When you have a local program deployed, you have maximum control over devices located in the same office. However, things get sophisticated when users start to move between different locations, like those working remotely.
Cloud-hosted endpoint Windows 10 protection allows you to manage endpoints centrally regardless of their locations. In order to manage them, each of these devices needs to have a software agent installed. Agents may take 10 to 15 minutes to install, gets connected to your cloud account, and configure itself before finally securing endpoints.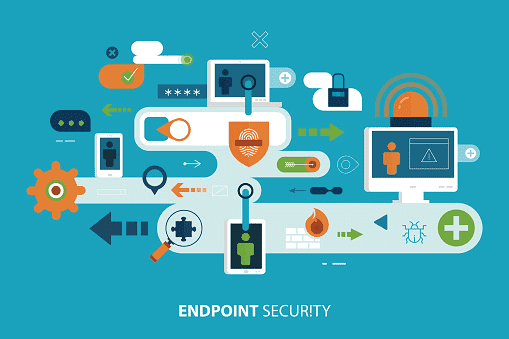 Endpoint Windows 10 Protection: Complete Scanning
Another feature that can protect your endpoint Windows 10 is malware protection. EDR solutions can prevent malicious software from ravaging devices by monitoring all entry points consistently.
After installing agents, you need to execute a complete scan of the entire system to guarantee that there's nothing dangerous residing there. To ensure you won't forget it, you can set a scheduled system scan outside work hours. However, you have to ask users to keep their devices on.
Opt for a product that also covers protection for your web activity. This allows the agent to block access to distrustful sites before the user gets exposed to malicious content.
Many security products also have category-based URL content filtering that lets you bar users from using their device to access unproductive websites.
Agents must be always updated with the latest malware signatures to make sure that your endpoints are working exactly as they should.
Endpoint Windows 10 Protection: Guards Email
Employees who are working remotely usually receive phishing frauds in their email inboxes. As a sophisticated form of cyber-attack, these emails look like legitimate messages coming from familiar companies.
It aims to trick the recipients into believing that they need to perform a certain action to protect their online or bank accounts. However, these include links to fake websites that could steal personal information or infect your device with viruses.
It's vital to choose an endpoint Windows 10 security solution that detects this kind of malware and block phishing links and spam messages. Because cyber threats are always developing, you should never be complacent.
It's critical to have a mechanism in place for reporting suspicious emails, as well as training employees on how to use it. Simply deleting the email will not deter cybercriminals, as they will just return unless the IT team is made aware of the issue.
Endpoint Windows 10 Protection: Mobility
More often than not, endpoint Windows 10 security is focused on laptops and desktops. Nevertheless, tablets and smartphones are just as critical. This is particularly true today that the world has evolved to more flexible working methods.
Many firms and employees have recognized the benefits of more flexible working arrangements in the last year, so a full return to the office is highly unlikely.
Moving forward, employees will be working in different places – homes, offices, coffee shops – or while in transit. This means they'll be using mobile devices like Windows 10. Unfortunately, this can expose them to different vulnerabilities.
Given this, yyou need to ensure that you have robust endpoint Windows 10 protection on any company-issued devices, including mobile phones and tablets. Instruct employees to avoid using their personal devices for work unless they have suitable company-approved security installed.
App and device controls are valuable features that can be used for protecting mobile devices. They allow you to stop specific types of apps from being executed on remote workstations and prevent company data from being copied to removable media.
Alerting and reporting functions are useful as well since they alert you as soon as they see your users are being attacked. When a security incident occurs, you should be able to receive email warnings so you can deal with it before it spreads and causes havoc; the management dashboard should also bring the specifics to your notice so you can take rapid action.
It is extremely important that employees are aware of the dangers faced by devices like endpoint Windows 10 to protect not only themselves but their organizations as well. You need to implement stringent security measures, such as using Xcitium endpoint Windows 10 protection solutions. It can proactively guard your workstations, servers, and other mobile devices to ensure continuous operations.