Finding the best security tool for your business isn't an easy job. In contrast, most enterprises know that Endpoint Detection and Response (EDR) solutions would protect them against various online threats. However, there are more sophisticated attacks that only a specific tool can battle out. It is one of the crucial reasons it's essential to make an EDR comparison before choosing.
EDR tools can detect threats within your network and respond accordingly. Moreover, it can analyze the nature of the attack and provide your IT security team with valuable information about the incident. It also contains and stops threats from spreading further in your ecosystem.
Meanwhile, most businesses use XDR (extended detection and response) for stricter patrol. However, unlike EDR, its job does not stop with endpoints. Instead, it also collects and analyzes data across various layers, such as email, server, cloud workload, and network.
To help you choose which security solution suits your unique situation and budget, let's see the differences between them.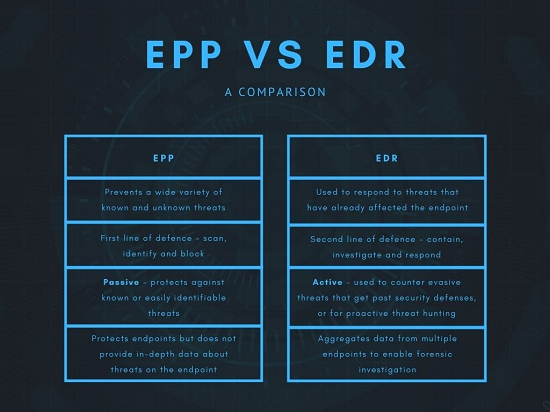 Understanding Your EDR Comparison Options
What is EDR?
EDR vendors deliver security tools that offer real-time continuous monitoring and endpoint data collection showing suspicious activity. Once it detects a threat, it also analyzes the data to identify its threat patterns.
With its collected information about the threat, it intelligently responds to attack by removing or containing them. It will then notify your IT security team about the incident, providing them with more than enough details.
Your security team can focus more on their core tasks with these capabilities. Moreover, when an attack happens, your IT team will only have minimal work instead of spending too much time identifying the root of the episode, what happened, and why it penetrated the network.
What is XDR?
Going beyond the EDR comparison list, XDR is the best choice for a more evolved cross-platform approach to EDR. For EDR comparison, it offers a broader scope of detection. It can also analyze data across more comprehensive platforms.
Moreover, XDR uses artificial intelligence, machine learning, and automation to get more details. It is also more proactive than EDR as it gives off accurate, context-rich alerts to security teams even before an attack happens.
It is useful, especially when the most sophisticated threats evade detection, as XDR determines deeper activity data across multiple layers instead of an endpoint device. As a result, security experts can take quicker action through investigation.
What to Choose For Your Business with our EDR Comparison?
With our EDR comparison between a standard EDR tool and an XDR solution, you'll see that both are engineered to ditch reactive approaches to cybersecurity.
Both solutions deploy a preventative approach to avoid security incidents by collecting in-depth data. It also applies data analytics and threat intelligence to identify threats or suspicious activities before they become worse and hard to manage.
The two tools also support automated threat detection and response, enabling enterprises to minimize the impact, cost, and damage brought upon by a cyberattack.
Moreover, EDR and XDR identify and remediate potential security issues before an attacker discovers them. These security solutions improve visibility which helps improve threat hunting efforts.
However, although they share some features, a quick EDR comparison will also reveal their winning side against each other. While both are good at fighting attacks and identifying suspicious activities, these tools will work best in situations they are built for.
For instance, an EDR tool focuses on protecting endpoints and provides in-depth visibility and threat prevention for a particular device. Meanwhile, XDR stays on top of a more expansive view, integrating security across endpoints, cloud computing, email, and other solutions.
On the other hand, you can integrate EDR tools with an array of point solutions. Meanwhile, XDR simplifies an organization's security architecture by providing integrated visibility and threat management within a single solution.
Best EDR Comparison: Key Takeaways
Making an EDR comparison between EDR tools and XDR solutions will help your business determine the best security protection against threats. However, doing an EDR comparison will be easier if a provider can offer both solutions. It is where Xcitium comes in.
Xcitium EDR is a powerful event analysis tool that can fight endpoints' malicious activities and other threats. It can also deliver a detailed timeline during an attack, allowing your IT security team to end the attack as soon as possible.
Best Advance EDR Comparison
Meanwhile, Xcitium XDR has broad coverage across threat vectors and offers central management across all products and services.
Xcitium has experts who can discuss their EDR tools and XDR solutions with you. It will also suggest the best security option that will work perfectly for your unique business situation.