As organizations continue to adopt the work-from-anywhere model and face new attacks, they need solutions that address security and networking needs, including Secure Access Service Edge (SASE).
SASE offers comprehensive network and security as service capabilities like SD-WAN, SWG, CASB, NGFW, and Zero Trust Network Access (ZTNA), which form the cornerstone of your cybersecurity architecture through continuous verification policy enforcement and limited "blast radius." To uphold the principle of least privilege, which dictates monitoring non-human accounts, such as service accounts, for unusual behaviors.
What is Zero Trust?
Zero Trust is a security model that removes implicit Trust in networks through processes, policies, and technologies to authenticate and authorize users and devices continuously. It may be called Zero Trust network access (ZTNA) or zero-trust architecture (ZTA).
Zero Trust security principles take an expansive view, in which all devices, users, and network flow - inside or outside the corporate perimeter - are seen as potential threats at any moment. This approach departs significantly from traditional castle and moat thinking based on firewalls, secure gateways, or other perimeter defense measures.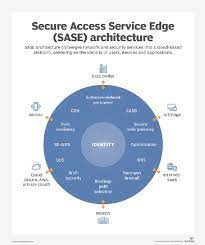 Zero Trust solutions offer comprehensive protection as the lines between work and home become increasingly blurred as more remote employees take their jobs from home. It combines Software-Defined Wide Area Networking (SD-WAN), identity and access management, multi-factor authentication (MFA), and a unified, secure web gateway into one comprehensive Zero Trust offering.
Zero Trust stands out from traditional approaches by not requiring direct access to an on-premises data center to deploy and manage security services, rather than hosting them yourself or with a CSP. Furthermore, this approach eliminates the need to deploy and manage point solutions, thereby decreasing complexity while improving security operations.
Zero Trust encompasses two central principles, continuous verification (which involves checking all users at all times and connections) and least privilege. Least privilege stipulates that access to resources should only be limited to what's necessary to complete tasks - an important safeguard against attacks that leverage overly-permissioned service accounts to gain entry to an organization's networks.
Zero Trust utilizes dynamic security policies with dynamic friction to make decisions about Trust. For instance, when trust levels are high enough, low-friction authentication can be implemented; conversely, when trust levels decline further, higher friction requirements may need to be enforced to ensure users are who they claim they are. Therefore, Zero Trust makes an ideal architecture for modern distributed workplace environments and the fast-growing BYOD trend.
What is Secure Access Service Edge?
Secure Access Service Edge, or SASE, architecture brings networking and security capabilities together in one cloud-delivered solution, promising to streamline WAN deployments while improving performance and decreasing risks. Furthermore, its model offers inline visibility and granular data control to prevent attacks before they happen.
Traditional perimeter-based security no longer suffices because applications, data, and workloads are increasingly hosted in cloud data centers, Infrastructure as a Service (IaaS) platforms, and other remote locations. Such approaches often entail redirecting all traffic destined for the internet back through corporate networks first, which slows connections and decreases application performance.
To address these challenges, enterprises must reassess how users and devices access essential applications, data, and resources. Given an increasing hybrid workforce, a centralized model that requires a direct connection from remote locations to a corporate data center may no longer be practical or feasible.
The SASE model offers an elegant solution to the increasingly borderless world. It combines software-defined wide area networking and Zero Trust security to securely link users, systems, devices, remote networks, and apps. It replaces traditional firewalls with an identity-based cloud security platform that delivers security to each connecting person, location, or network.
SASE providers can deliver a range of security functions along with SDWAN, such as cloud access security brokers, secure web gateways, and zero trust network access (ZTNA). While features vary among vendors, the top SASE vendors typically offer comprehensive capabilities like support for 5G across WAN links; behavior and context-based protection; integrated AIOps troubleshooting/remediation capabilities; advanced threat prevention measures, and more.
SASE solutions combine network and security services into a consolidated solution that offers many advantages, including lower costs. By eliminating separate hardware appliances, these solutions significantly reduce capital expenses and management fees while offering one point of contact for connectivity and security that can easily scale to meet growing remote user demand and support 5G, IoT, or other business drivers.
How do they work together?
SASE architecture integrates networking capabilities that facilitate user connectivity from any device and security features that enforce organization policies. Zero trust security is an integral component of this new approach to cybersecurity; as cybersecurity becomes an ongoing effort rather than an isolated state, SASE and zero Trust provide security capabilities necessary for today's distributed business models and remote workers.
SASE was designed to accommodate an array of networking and security as a service (SaaS) solutions, including CASB, NGFW, WAN Optimization, Zero Trust Network Access, and various threat detection functions, into its platform. Furthermore, its cloud architecture enables secure SD-WAN services delivered as cloud services that can scale as business needs dictate.
By consolidating all these technologies into one service, SASE can streamline cybersecurity complexity while increasing effectiveness across dispersed environments and offering end users optimal network experience. Leveraging our cloud architecture ensures all traffic travels through the fastest route possible to reach Cloud or on-premise data centers with minimum latency, providing significant performance gains over traditional networks.
This architecture also minimizes the "blast radius" of attacks against a network, lessening their impact on critical corporate systems. With cybercrime an ever-increasing threat, swiftly identifying points of entry and stopping malicious activity at the source is crucial in protecting a business from damage or financial loss.
The SASE architecture is based on NIST 800-207, an industry standard developed in response to numerous high-profile breaches across government agencies and private enterprises. This standard outlines steps necessary for Zero Trust implementation with heavy support from commercial customers, vendors, and government stakeholders - with SASE architecture satisfying NIST security requirements while being the most comprehensive and vendor-neutral way of reaching Zero Trust.
What are the key benefits of Zero Trust?
Zero Trust network architecture offers security and flexibility advantages over its counterparts, giving IT teams the power to quickly add devices, resources, and applications across all types of networks - even those outside the firewall - with minimal hassle for IT teams. Zero Trust also enables organizations to quickly move resources between on-premises environments and the Cloud with no loss in security, meaning organizations can scale up operations, transition to hybrid working models, or implement full-scale remote working without worry over compromising security.
Zero Trust uses a "never trust, always verify" principle to defend against threats that have become increasingly dangerous with digital transformation and remote working. Instead of relying on point solutions such as point antiviruses or point solutions inline proxy architecture to inspect files before reaching their final destinations - thus helping protect against ransomware, malware, and other threats that have evolved to bypass traditional firewall technologies.
Zero trust technology can also ease the workload for IT staff by offering a single sign-on gateway and streamlining user authentication processes, which allows employees to return quickly to business activities while improving productivity and decreasing IT expenses. Zero trust solutions reduce cost as IT no longer needs to purchase numerous tools to access each access method separately.
Zero Trust requires some initial investments in tools and staff; however, it can bring significant cost savings for most organizations. According to research commissioned by Centrify, Zero Trust led to reduced hosting and management fees and decreased licensing fees for perimeter-based security tools.
Securing the technology of your organization requires a comprehensive strategy. Zero Trust and Secure Access Service Edge (SASE) are crucial components of this framework. They should be implemented before progressing toward SASE to guard against ever-evolving threats in today's digital environment. By instituting Zero Trust and then moving towards SASE, your enterprise will have all of the capabilities it needs to remain safe during its rapid transformation and remote working operations.