WHAT IS MEANT BY ENDPOINT SECURITY?
One of the first moves of cybercriminals, when they're looking to execute an attack, is to determine which part of an organization's mechanism is best for them to exploit. This could be a website, software program, or networked device. As such, effective cybersecurity is crucial. And for it to be a success, you should implement a strong endpoint security solution that protects all your company devices.
Endpoint security refers to the approach of shutting down any element of your organization that can be a leeway for online attacks. Generally, it involves all the devices being used within your network.
The main goal of endpoint protection is to shield your organization against different threats like ransomware. A solid solution can help you detect, evaluate and block malware, as well as other types of cyberattacks.
Endpoint security should not be taken lightly. Keep in mind that it is an integral part of any IT infrastructure or network security plan regardless of the size of your organization.
Types of Endpoint Security
Here are the different endpoint security options: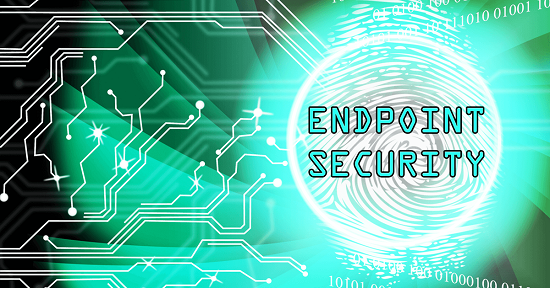 HOW ENDPOINT PROTECTION WORKS?
Depending on your organization's preference, endpoint security can be deployed on-premises or in the cloud. Through endpoint protection platforms or EPP, you'd be able to analyze files as they enter your network and compare them with a database of malware information, which is typically cloud-hosted. Making use of platforms that use real-time machine learning can help your business remain safe against cybersecurity threats.
The main goal of endpoint protection is to shield your organization against different threats like ransomware.
1. Fileless malware
A modern type of malware that takes advantage of legitimate programs to contaminate a computer. Unlike with traditional malware, there is no file needed, which makes it easy for it to go undetected by traditional anti-virus software.
2. Zero-day attacks
Occurs when cybercriminals find the opportunity to use the vulnerabilities on new or updated software. This is a good window for them as it can be impossible to detect attacks in the beginning since developers won't have enough time to fix the problem.
3. Polymorphic attacks
Polymorphic means "many forms". Polymorphic attacks continuously change their features, such as file names or encryption keys to avoid being flagged by antivirus software.
4. Juice jacking
Utilizes modified USB ports designed to infect devices with malware. This is why it's not advisable to use free charging stations as those could only be a disguise.
Why is Endpoint Security Important?
Gone are the days of rigid perimeters that only allowed security teams to access central repositories and servers by physically being there and using a common portal. Thanks to the continuous advancement in technology and the availability of cloud hosting, the situation has now become more evolved.
This means that your employees, partners, and vendors would be able to connect to your network using their own devices and typically from remote locations. While this is an advantage when running a global business, it also comes with several cybersecurity risks.
Implementing a top-notch endpoint security system ensures that all possible entrances for outsiders are monitored and ready to be sealed.
KEY COMPONENTS OF ENDPOINT SECURITY PROVIDES
If you're in the market for the right endpoint security solution for your organization, there are key components you need to take into consideration. Don't be swayed by vendors who claim they can provide you with a complete suite but lack the important elements you need.
Here are some of the most essential features you need to look out for:
Device protection
Is the product optimized for mobile endpoint protection? Look for a solution that features antivirus and malware protection not just for computers but mobile devices as well.
Network controls
Your endpoint security solution should function like an inclusive firewall that sorts through all incoming traffic and detects potential risks.
Application controls
Can the product be integrated with application servers to enable continuous monitoring and access restrictions?
Data controls
Are there tools that can help prevent data leaks and enhance data security using encryption of sensitive information?
Browser protections
Go with an endpoint security solution that includes a web filter option. This can help you restrict website access while connected to your network.
While traditional antivirus programs can be beneficial to your organization, they often can't keep up with today's ever-advancing techniques to compromise a network. That is why it's vital to establish a solid endpoint security approach as part of your entire network security.
And if you're after a complete endpoint protection solution, look no further than Xcitium. We might have the answers to your specific needs, such as:
Endpoint detection platform
Advanced endpoint breach protection
Endpoint detection and response
Managed detection and response
Learn more about our products and services by browsing our website.