EDR vs MDR vs XDR Explained
Arthur
15 Nov, 2022
2171 Views





(
6
votes, average:
4.50
out of 5)

Loading...
As companies continue to grow and become more distributed with remote workers, cybersecurity threats become more prevalent. The more remote workers are employed, the more networks and devices there are to account for and secure. In fact, nearly 80% of executives surveyed in PWC's "Survey on Managing Business Risk" cited cybersecurity as at least a moderate risk, and half of those surveyed said it is a serious risk.
With so many potential access points leading to important information within your company, what can you do to prevent catastrophic data breaches?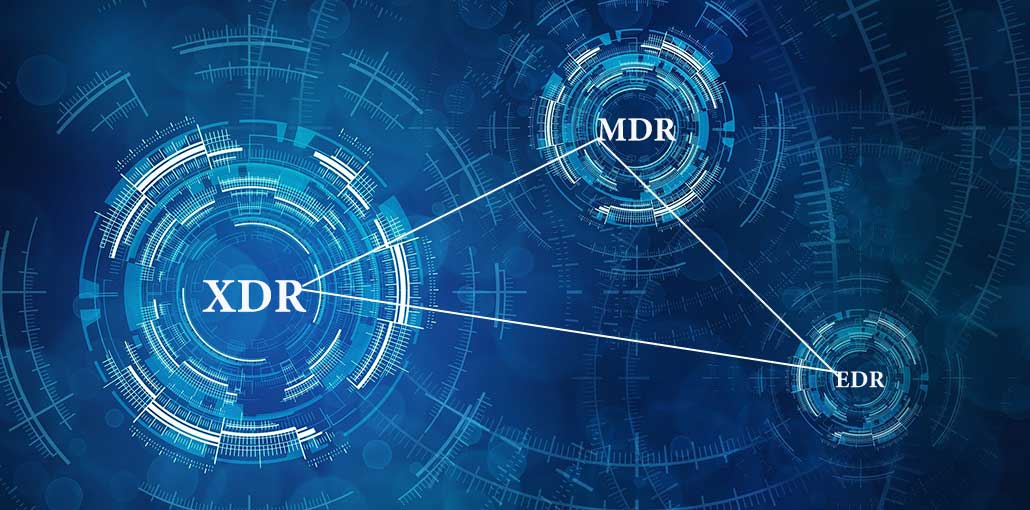 Know the Differences Between EDR vs MDR vs XDR
Three commonly used cybersecurity tools are endpoint detection and response, managed detection and response, and extended detection and response. All three are viable methods for protecting your company from certain cyber attacks, but what are the primary differences between EDR vs. MXDR vs. XDR? We've outlined below some key information to help you decide which one is best for you and your company.
With cyber threats becoming more sophisticated and frequent, it's important for businesses to have effective security solutions in place to detect, prevent, and respond to threats. Two popular security solutions are EDR (Endpoint Detection and Response) and XDR (Extended Detection and Response), but what is the difference between them and which one is right for your business? Let's find out in this EDR vs XDR section
EDR solutions are focused on detecting and responding to threats on endpoints such as laptops, desktops, and servers. EDR solutions use advanced machine learning and behavioral analysis techniques to identify potential threats and provide real-time visibility into endpoint activity to help security teams quickly identify and respond to security incidents. EDR is a powerful tool for endpoint security, providing businesses with increased visibility into endpoint activity and potential security risks. EDR is also designed to protect against a wide range of endpoint threats, including malware, ransomware, zero-day attacks, and fileless attacks.
On the other hand, XDR solutions provide a more comprehensive approach to threat detection and response by integrating multiple security technologies such as EDR, NDR (Network Detection and Response), and CSPM (Cloud Security Posture Management) to detect and respond to threats across multiple environments. XDR provides businesses with enhanced threat detection and response capabilities across multiple environments, with reduced alert fatigue and improved security operations efficiency. With XDR, businesses can benefit from advanced analytics, automation, and orchestration capabilities, along with increased visibility and context into security incidents.
So, which solution is right for your business in this EDR vs XDR tussle? It depends on your specific security needs and requirements. If your business is primarily focused on endpoint security and has a limited security budget, EDR may be the better option. However, if your business operates in a complex and dynamic environment and requires a more comprehensive approach to threat detection and response, XDR may be the better choice.
In conclusion, EDR vs XDR is not a question of which one is better, but rather which one is better suited to your business needs. Both EDR and XDR are powerful security solutions that can help businesses protect against cyber threats and achieve better overall security posture. It's important to evaluate your business's security needs and requirements before choosing the right security solution for your business.
What is EDR?
Endpoint detection and response is a powerful event-analysis tool that offers constant monitoring and detection of potentially harmful events on business endpoints. EDR tools visualize threats for you along a comprehensive timeline, warning you instantly of any cyber attack alerts. What does this mean for you and your company? You are given more tools to proactively protect and manage your endpoint devices from cyber attacks.
What is MDR?
Managed detection and response is a service provided by an outsourced cybersecurity vendor. The MDR provider offers threat-hunting and incident response benefits, all supplemented with the help of the provider's security experts. This is a popular option for organizations that lack the right amount of resources or IT expertise.
What is XDR?
Extended detection and response, in comparison, aims to manage and protect not just endpoints, but entire digital components and infrastructures — on-prem and in the cloud—for a company, including networks, apps, and cloud storage. To simplify, XDR casts a wide net of protection and serves as a jack-of-all-trades extended tool for protecting against malicious cyber attacks.
What is EDR vs XDR
EDR stands for Endpoint Detection and Response. It is an automated EDR software security tool that monitors, identifies, and mitigates threats at endpoints. This integrated security solution monitor endpoints in real-time.
It collects endpoint data and allows the security team to perform rapid threat analysis. This tool can initiate a rule-based automated response in case of suspicious activity.
More than 68 percents of Organizations are victims of endpoint threats.

XDR Stands for Extended Detection and Response.
It is a multi-layered detection and response tool that continuously captures, monitors, and analyzes data across multiple security layers such as servers, clouds, networks, endpoints, apps, etc. XDR helps your security team to detect, investigate and respond to threats.
Main Similarities of EDR vs XDR
Before I tell you about the main differences between both solutions. I want to tell you how they are similar.
Quick Response
Response to threat matters the most. If you don't respond to an attack on time, an attack may be widespread and cause more damage to your organization. Thanks to Endpoint Detection Response and Extended Detection Response, you can enjoy a rapid response rate. Both EDR software security tools are automated, send alerts to security personnel, and start the remedy correctly.
Threat Detection Support
When your organization has both XDR and EDR, your cyber security analyst gets the much-needed resources to detect threats. Security teams enjoy excellent visibility into every endpoint, cloud app, system, and process. It becomes easy for them to figure out system vulnerabilities and loopholes. Thereby, your business can prevent cyber threats.
Proactive Security Solutions
XDR and EDR are the best alternatives to the traditional reactive approach. These solutions won't wait for a threat or infection in the system. They monitor your endpoint and network continuously for suspicious threats and activities. With the mean of these solutions, you can identify threats beforehand. It means you can manage the threats and eradicate them before it even causes any damage.
What Are the Differences Between EDR vs MDR vs XDR?
The main difference between EDR and MDR is mentioned below, know more:
So which one of these is right for your company? The answer to this question is simple — it depends. A vital point to consider is how your enterprise is currently set up. Is it fully remote with numerous remote workers? Are you only one person working from a single location? These factors matter, as every company is in a different security state than others.
Before you compare EDR vs MDR vs XDR, you must first identify your company's needs. To assist in this, consider these two key distinctions between EDR and XDR, and MDR.
1. How Do They Perform?
One difference between EDR and MDR and XDR is they all serve different purposes and vary in importance based on what you and your company wish to accomplish.
EDR is more equipped to specifically handle endpoint protection alone, making it a strong option for that singular purpose compared to the more extensive capabilities of a solution like XDR.
MDR builds off of what EDR offers, but with an outsourced 24/7 Security Operations Center (SOC) team helping you monitor and respond to endpoint incidents across a wider range of resources.
If you're looking to safeguard your organization's entire endpoint infrastructure, from computers to email gateways to smartphones, then XDR provides you with a layered cybersecurity solution that consolidates the management of all your data and resources into one.
2. How Do They Integrate?
Because of the advanced capabilities of endpoint protection provided by EDR, it can be used more diversely across security stacks. This makes it an easier option to integrate within a pre-existing technology stack.
MDR, because it focuses on managed protection and threat-hunting across a broader scope, can use EDR or XDR to help supplement it. MDR providers operate outside of the network they're protecting. This isn't always the case for EDR and XDR.
XDR, because of its wide range of security capabilities, is more of an all-in-one solution to cybersecurity, which makes it a stronger standalone option.
All three solutions have several important differences to consider, and each one helps organizations fulfill particular needs (e.g. the difference between EDR and XDR protection and how each one covers areas in environments).
Although the difference between EDR and XDR boils down to protective capabilities, MDR offers similar services that are managed. To reiterate, consider your company resources and current IT expertise first and foremost.
Which Security Solution is Right For Your Business?
Two security solutions play a vital role in improving the agility and effectiveness of cyber security for your organization. They are well-known as EDR and XDR. Today, I'm planning to share complete details of both solutions while letting you know EDR Vs. XDR- which one is right for your business?
What Are the Similarities Between EDR vs MDR vs XDR?
EDR, MDR, and XDR are all valid ways to bolster your cybersecurity posture and ward off cyber attacks. In addition, they have many similarities to consider:
They all aim to proactively protect your information through data collecting and analysis
Each one utilizes automated threat detection and response actions like blocking and quarantines
All three aid threat-hunting efforts by offering broad security visibility and easy access to data
1 Is Better Than None
Even though it's easy to compare EDR vs MDR vs XDR, the underlining takeaway here is that using any one of them is beneficial and will support your cybersecurity stack compared to using none of them. Without one of these solutions, you risk leaving your company and personal data exposed to breaches and attacks.
What's suitable for your Organization?
When choosing between XDR and EDR, your security experts must consider security architecture, types of security control, and computing environment.
When you need system and network comprehensive information, you will rely on XDR. However, when you need accurate data and information about endpoints, the detection and response tool is undoubtedly better than XDR.
You can have limited scope and visibility with EDR, but once you integrate XDR, it will let you enjoy broader system access and complete network protection.
In this digital transformation world, XDR lets organizations monitor and account for every step of the kill chain. Extended data and response tools are more than necessary because Organization relies heavily on cloud computing and remote work.
Remote workers have caused 20 percent of security breaches in organizations.
The Next-Level Protection
Even when your Organization has EDR, your Organization can get multiple benefits with the integration of XDR.
It helps your security team detect attacks and vulnerabilities of the complete IT structure, not just endpoints.
It decreases the chance of cyber threats
It works as a unified platform that offers you incredible threat visibility in real time.
It makes it simple for your Organization to manage, scale, and deploy risk and threats effectively.
In short, your Organization can enjoy higher productivity and lower cost of cyber security threats with the mean of XDR than EDR. It also offers better awareness and response capabilities.
Wrap up
Finally, you have got a clear picture of XDR vs. EDR in your mind. Both security solutions let your organization deal with cybersecurity threats. You can employ both to enjoy top-class protection across all endpoints and systems.
Whether you need EDR or XDR as your cyber security solution, Xcitium is here to help. We let Organizations monitor threats and respond to them automatically with our well-designed security solutions.
Still haven't decided which is right for you?
Xcitium offers a live one-on-one demo to walk you through EDR vs. free OpenEDR vs. XDR. vs. MDR implementations while answering any questions you may have. We tailor this process specifically to you and your company's needs.
Interested in learning more about how Xcitium can enhance your cybersecurity stack with Containment-Powered Managed XDR (MXDR)? Schedule your educational demo today.